About us
Based in Canterbury, New Zealand, Blue Coconut oil is sourced from our Pacific Island neighbours through sustainable and equitable partnerships. We are committed to not only to supplying the best coconut oil in the world while supporting many island communities but also educating all about the many health benefits of coconut oil. 
Like any small business, Blue Coconut began modestly in our home with family and friends roped in to label the small batches of hand-poured pots. Initially we tapped into cold-pressed coconut oil however having come from a medical background, we also wanted something that was extremely safe. The solution was to expand into refined oil for a clean medical-grade oil that doesn't have an aroma or flavour, and thereby has a broader range of applications in cooking. Clay filter refined in New Zealand under AUS and NZ certified and licensed Food Safety HACCP rules, our pure coconut oil contains no additives, contaminants or trans-fats and is naturally cholesterol free.
We have done a lot of research over the years and our advice is simply to try it. Learn why we love Coconut oil see references or even do some reading of your own and decide if it's something that might work for you too. We promise once you start you'll see how well it performs and why we call it ridiculously versatile!
Our first batch
The cars move out of the garage to make way for our first production line and the home gym is converted into a office.
There were many hours of trial and error and a lot of memories.
We're glad our days of spilt oil are over... we'll almost ;)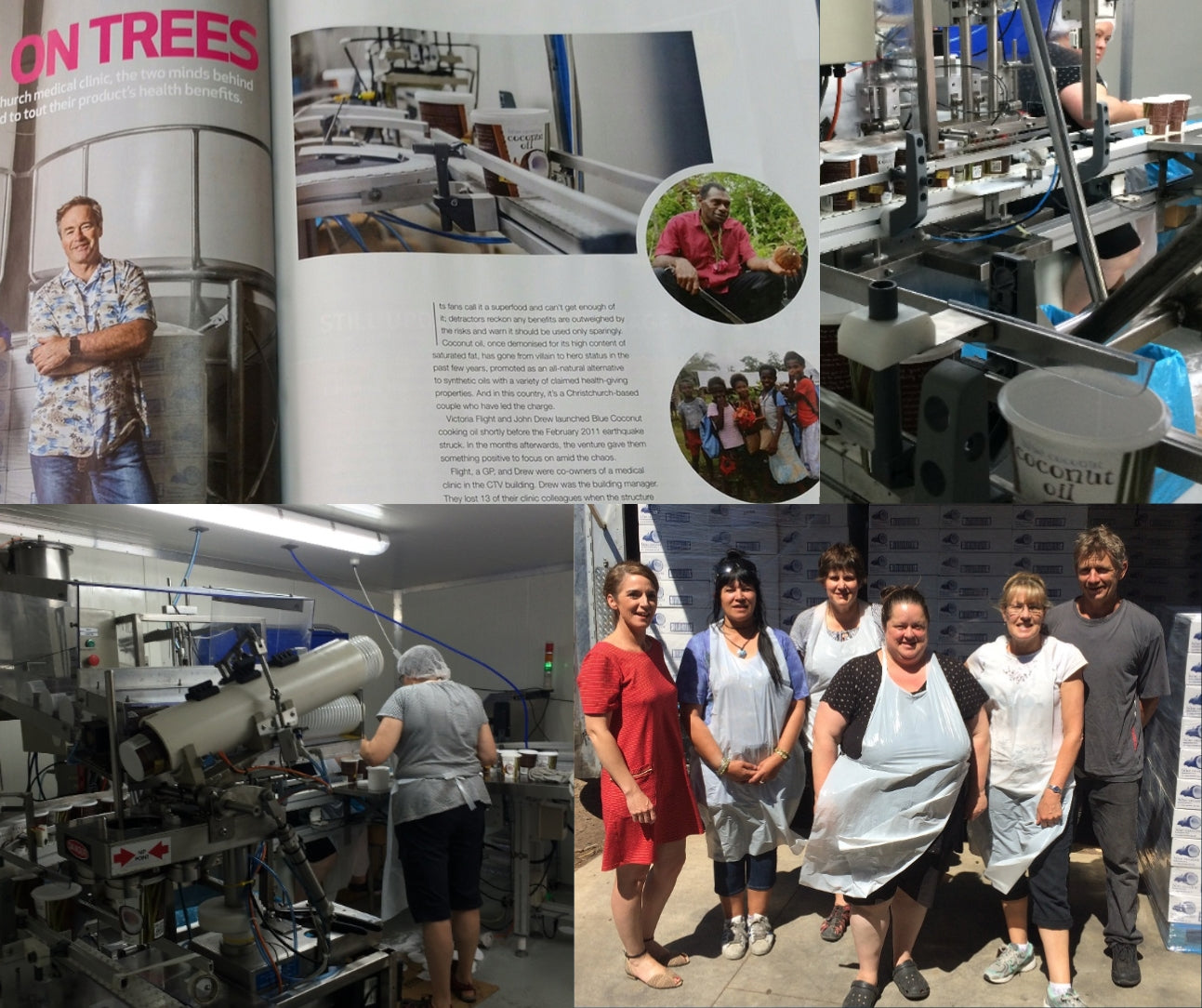 The hustle
We're up and running, the words spread and we're in a supermarket near you! The team grows and the machinery just keeps getting bigger.
Blue Coconut HQ
The move to the big city! We say goodbye to our hometown and hello to our new headquarters in Hornby, Christchurch. With better logistics to fulfil our growing demand we're ready for the future, robot included!